Artur Nunes, "Mana" & "Kisua Ki Ngui Fuá"
(Angola, '60s-'70s?)
Fantastically funky stuff from the former Portuguese colony of Angola: as with virtually every constituent of postcolonial Africa, Angolan music is marked by a combination of European classical and folk forms, rhythms and tonalities inherited from the West Indian & Latin American slave trades, and native musics of various kinds. Nunes, about whom I unfortunately know virtually nothing, has all this in spades -- dig the Spanish-Cuban flavored chord progressions, the re-Africanized western funk rhythms, the Thomas Mapfumo & Hallelujah Chicken Run Band-style arpeggiated fretwork, and that all-important Angolan shaker. "Kisua Ki Ngui Fuá" in particular is ramshackle dark-sunshine soul at its very finest.
Toni Esposito, "Rosso Napoletano", Rosso Napoletano
(Italy, 1974)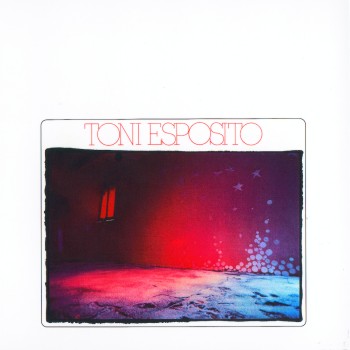 Some consummate fourth-world fusion from drummer/percussionist Esposito, who's equally at home on Italian prog-jazz discs and in Don Cherry's small groups. The pacing, pattering
doumbek
sez 'Egypt,' the scatting vocals and rattling percussion 'Brazil,' and the high-drama/extended-harmony pianistics 'Eddie Palmieri,' but the interlocking Fender Rhodes/acoustic guitar webs over a hard-funk rhythm section is '70s Italian goodnuss (and for more transnational problematix, check the quizzical Hermeto-style Rhodes solo and the sparse foghorn interjections of Wayne Shorter/early Jan Garbarek soprano sax).
Horrific Child, "Frayeur", l'Étrange Mr. Whinster
(France, 1976)
Not only do I not particularly know what the hell this is, but I'm within freezer-frost's breadth of declaring that
no one
could possibly know what the hell this is ('this' being without doubt the most lucid and referentiable track on the LP, the other side of which is primarily dedicated to guttural readings of the Comte de Lautréamont's
Les chants de Maldoror
over sub-Shub Niggurath goth-chamber squeaks). I give you one of the many deformed brainchildren of French bizarro-possible-genius Jean-Pierre Massiera, whose place in French pop music seems to be to Jean-Claude Vannier's roughly what Joe Meek's is to George Martin's in the Anglophone rock world, which is basically to say that JP's technical prowess and imagination are matched only by his penchant for self-immolating
bizarrerie
. Apparently he trafficked largely in film soundtracks for most of the '60s before moving to Quebec and releasing a string of Curt Boettcher-style exploitation novelty records, allowing of course for the obvious exception that Boettcher's actually sounded like those capital confections of whose fans the man was trying to take material advantage. Massiera, on the other hand, appears grounded with the Captain Beefheart Syndrome, which is to say that his efforts at cheap cash-outs are far stranger than the strangest most of us could aspire to even in a particularly fecund dreamscape -- if you think this is weird, which you should (unless you've been socialized in an environment saturated with fake African drumbreaks, fake Amazonian Popol Vuh vocal histrionics, Stockhausen/Berio tape manipulation, pygmy ritual percussion, atonal fusion ensemble playing, moronic one-chord fuzz guitar, and semi-Lester Lanin horror-movie organ, in which case you'd be me), you've got to hear his
disco
records.
Goblin, "Death Dies", Profondo Rosso OST
(Italy, 1975)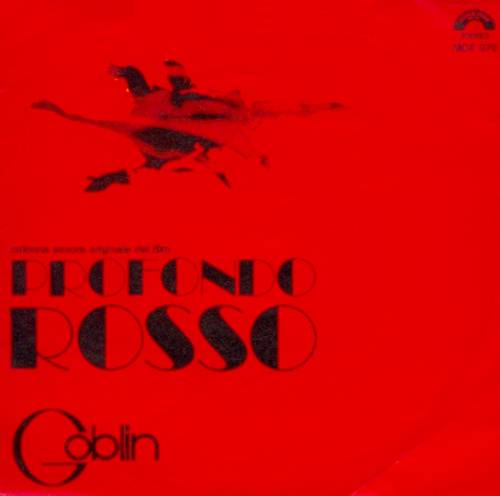 I shan't try to top the Massiera for oddness (tonite), so here's one yeh may well already know, given that Goblin represents the extraordinarily rare case of an Italian minimalist-prog group
dont la connaissance est fait plus mieux
among film nerds than anyone particularly interested in the music itself -- this cut dates from genius-psychopath Dario Argento's
Deep Red
, one of the most brilliantly stylized of his films if not one of the more tonally or logically coherent (but then anyone going to him for coherence on any level but the visual one is either a masochist or a sad, lost babe in the woods). Their sound generally tended toward something more like a combination of Mike Oldfield and Le Orme -- think heavily-layered bedroom-symphonic minimalism with occasional outbreaks of Italo-rock grandeur -- but this one's pretty firmly in the camp of an addled Euro-arty appropriation of Hayes/Mayfield soundtrack funk. Drummer Walter Martino in particular is not to be fucked with (well, well,
well
limber).
Kornet, "Sju Hungriga Ar", Kornet
(Sweden, 1975)
Some unreissued Scandinavian jazz-rock of which I know very little except that it quite beautifully splits the difference between the Continental through-composed school of fusion and the more 'Stateside Mwandishi/Headhunters find-a-groove-and-ride-that-shit subgenre. More classically-minded (which is perhaps but to say 'flute-using') fusion groups often take a face-first dive when it comes to bringing some actual funk soil'n'grit, but the groove here is well sepia when appropriate and takes on an early Mothers of Invention stutter-hop, complete with marimba infrastructure, for the chutes-and-ladders synth solo. Good damn stuff -- and yow, Gongzilla: yer a bit late on biting that intro,
n'est-ce pas
?
Kenny Barron, "Spirits" & "Hellbound", Lucifer
(USA, 1975)
Killer
-hip jazz-funk shit from the terminally underrated Barron, featuring a whole cast of rock-solid and likewise terminally underrated sidemen (James Spaulding, Billy Hart, Carlos Alomar, et al). The former track won't ruin any fragile unreconstructed Cartesian ontologies, but it gets serious points for the Dolphy-like dissonant head and Charles Sullivan's skittering, glittering trumpet acrobatics; the latter, on the other hand, is going to take the top of your motherfvckin' head off. Barron, going it solo Stevie Wonder-style, creates a tapestry of Rhodes, synth, and acoustic piano that recalls both prime era George Duke and Klaus Schulze and proceeds to develop it steadily for 13 minutes, fire-bombing it with burning-gold Coltranean pillars of modal-chromatic fire on the piano. This is A-1, top grade, superfly-TNT, through-the-halls-of-Montezuma, charge-of-the-heavy-ass-brigade sheeit, and though it's got antecedents on different levels from the aforemention Duke, Schulze, and Wonder to Todd Rundgren and Return to Forever, I have yet to hear anything else precisely like this --
ever
. Hey, you! You know who's not fucking around? Kenny Barron. Kenny Barron's not fucking around.
Skaldowie, "Nasza Milosc Jak Wiatr Halny", Stworzenia Swiata Czesc Druga
(Poland, 1977)
Ostensibly Skaldowie is best known in Eastern Europe for a string of post-Beatles beat-pop hits, and the eight other people with computers to whom this sort of thing is import seem unanimous in their regard for their 1973 LP
Krywan, Krywan
, but I've been fascinated of late with the trans-cultural interstices of this particular slab (modesty entitled "The Creation of the World, Part Two," or something to that effect). It's equal and frictious parts moonlit early symph-prog, orchestral Stax soul, and stark, violin-driven Polish folk, something like Michal Urbaniak sitting in with the first King Crimson on their re-arrangement of Isaac Hayes'
Black Moses
(credibility both established and exceeded --
reconnect schizo-schreberian matrix mainline
) -- dig those
Trespass
massed-choral vocals slipping into flashbulb drum breaks and swooning Smokey Robinson strings.